Do you ever use a pencil? If so, have I got a treat for you! I teach first grade and we go through a LOT of pencils. My little ones can sharpen a pencil into oblivion in one session with an electric sharpener. This nifty new gadget has saved the day, or at least some pencils....
I bought an amazing set of pencil sharpeners for my school classroom. They were recommended by a colleague and I am super appreciative. I've never had such well sharpened pencils before, and my first graders can sharpen all by themselves without turning their pencils into nubs. This sharpener stops when the pencil is sharp!!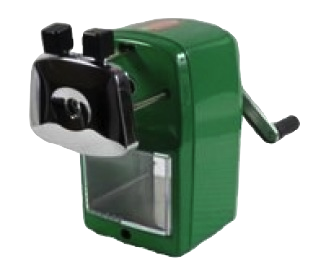 These are available at
www.classroomfriendlysupplies.com. The reasonable price of $54 for THREE sharpeners make these quite affordable. They are available individually for $25 each, but why when you could have 3 for $54? This INCLUDES shipping!
These come in colors to suit your needs (red, green, black or blue) and quickly attach to a desktop or bookcase with a clamp that is included. I have found that even when clamped down the sharpener needs a hand resting on top to keep it stationary, but it seems a natural part of the process. You will find videos at the website with great directions for sharpening. You will be truly amazed at the points on your pencils.
What color do you want? Just enter for a chance to WIN your very own sharpener! I promise you'll be so delighted you'll want to give these as gifts to everyone you know who uses a pencil.
Here we go with the giveaway, good luck! (Winner must have a US mailing address.)
a Rafflecopter giveaway
WHEN you win, you'll just need to let me know what color you'd prefer and the kind man at
www.classroomfriendlysupplies.com will send you a pencil sharpener right away!